Diese Veranstaltung hat bereits stattgefunden.
MANTRA TRIBE CHANTING PARTY \\ boOM to the core
5. Mai @ 19:30

-

22:30

CEST

Euro15
The Chanting Party is back!
Nach einer spannenden, magischen und musikalisch ekstatischen Reise sind wir nun wieder zurück aus Mama India um mit euch abzuheben und zu beben!
Freshly back from Mama India, after a magical-music al-ecstatical journey, we are excited to be back and fly with everyone in Berlin again!
hOMe sweet hOMe :)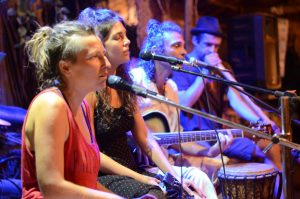 It was some serious/ es war eine sehr intensive SIVA/SHAKTI INJECTION .>>>>>
Get ready for this first ♡》》BoooOM to the Core《《♡ Berlin Edition 2018
Mit bekannten und BRANDNEUEN Songs weben wir weiter unseren magischen Teppich und fliegen in neue Weiten. Das ist Bhakti TRIBAL und du kennst schon die Medizin: ECSTATIC MANTRAS heiraten HOT TRIBAL BEATS!! Gib deinen Schweiß – gehe in den Flow und erlebe den Space endloser Tiefen durch Chanting & Dancing —–>E*C*S*T*A*S*Y<——
New songs are flying (with) us and the magical carpet is taking us to new realms of Bhakti TribalNess. You know the medicine: ECSTATIC MANTRAS make love to the HOT TRIBAL BEATS, the more you sweat, the more you flow…We still share passionately from the 2017 release "ShaMantraNce" and weave spontaneously in between, creating spaces for deepening your chanting & dancing —–>E*C*S*T*A*S*Y<—— Experience.
Come on Shiva light our FIRE :: boOOOOOMMMMMM to the <3Core.
Saturday / Samstag
05.05.2018
JuKuZ Gérard Philipe
Karl-Kunger-Str. 29/30
12435 Berlin Alt-Treptow
Arrival/Einlass: 19:30 Uhr
Eintritt: 15€, 12€ (ermäßigt/reduced. Bitte mit ID)
Full info, music and all the dates for the 2018 Tour:
www.mantra-tribe.com (at the moment in DE only)
https://www.youtube.com/watch?v=C5c1goIPr5s
Mantra Tribe :: we started in 2016 out of Love and Boom-Passion, combining our gifts and Bhakti for High-Octane-Vibes. We love to make all the Divine Frequencies dance wildly with each other in music. Welcome to an Ecstatic Chanting Party made playfully with Kirtan, irresistible intensity of Tribal Beats, Shamanic Roots, Japa Mantra, Meditative Waves, hand & mouthmade Electro and whatever wants to flow….
Mantra Tribes first album "ShaMANTRAnce" was released in June 2017 at www.anandamusic.de.
Mantra Tribe is fuelled by:
FlorAmor ~ voc, harmonium, shamanic drum >> Kali factor
Jasmin Mei ~ voice, harmonium, shaker >> Shakti factor
Marc Miethe – didgeridoo, didgeribone, shaker, looping >> ultimate tribal factor
Danilo Ananda Steinert ~ voc, drums, guitar >> neverending tribal factor